Custom Orders
The saddles shown on this website are suggestions: just a starting point and examples of our work. To make a saddle that is truly your own, please consider the following options:



Here are some examples of each option. Click on the pictures to enlarge.

Click here for ordering and payment policies.


All Koen Saddles are made with the finest quality leather and hardware. The color of the leather is a matter of personal preference.
Back to the top




Tree Type





The size and body type of the horse used will influence the tree length and gullet height. The tree shape will also determine swell size and shape as well as seat size, horn type and gullet height. Some other considerations include Full Quarter Horse Bars or Semi-Quarter Horse Bars. Other types are available by special order.

Use this diagram to visualize your new saddle.


The Bowden Brand Tree is rawhide over wood and is coated with epoxy to make it more sturdy. This model has an F.C.H. or forward angled saddle horn.
Center Ride, wood fiberglass covered tree made by Darrel Slinkard a long time saddle maker and custom saddle tree maker in Texas.
Click here for saddles made on this tree.




Horn Type

The #1 horn is standard on reining saddles and most general prupose western saddles. It is fairly short and is out of the way of the reins. It is shown here on the Basket of Roses Reiner.
This is an O.D.4 horn. Is is angled slightly forward and is a moderate height. Is is used here on the Koen Flex Cutter.

These are both F.C.H. (Forward Cutting Horse) horns. On the left is a 4.5 inch and on the right is a 4 inch.

The saddle on the left is the B.W. Slick Cutter and on the right is the B.W Rough Cutter.

This is a # 10 horn.
Back to the top




Tooling Patterns





A) Barbed Wire

B) Basket & Flower Stripe

C) Border HH

D) Windmill With Sunburst

E) Waffle Stamping

F) Diamond

G) Basket of Roses

Back to the top




Rigging Type




While most Koen saddles are ordered with Koen's close contact system, some prefer other rigging types. Koen saddles offers several styles.


Koen Close Contact Rigging
Regular 7/8 Double D Rigging
Flat Plate Rigging
3 Way In Skirt Rigging
Back to the top
Fender Length
Fender length is a personal choice. We can reccomend a general size, usually somewhere in the mid-range. This will accomodate people of average stature. Let us know if you are shorter or taller than average, we can easily make adjustments so that the fenders are what will fit you best.
Stirrup Style
Your new Koen saddle comes complete with everything you need to ride. Even stirrups. Select the style you like from these, or ask us if you don't see what you are looking for: we can order whatever you need.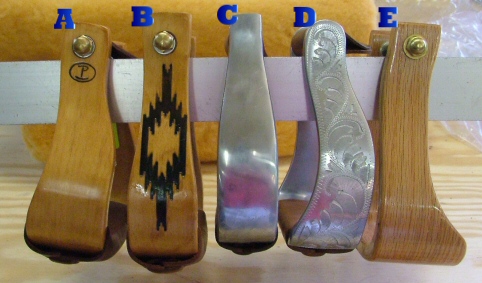 A) Heels down wooden stirrup, 3" tread
B) Aztec Design wooden visalia, 2" tread
C) Aluminum, plain, 2" tread
D) Engraved Aluminum, heels down pattern, 2" tread
E) Nettles #75 offset wooden stirrup with leather tread



Items A through D are no extra charge when ordering a saddle-pick any you like. Item E, the Nettles stirrup, is an additional $75 with a custom saddle. Just need stirrups for a saddle you already have? Just call and we can send you whatever you need!

Back to the top
Cinches

We offer the basics: top quality neoprene or mohair. Let us know your choice when we ship your saddle.